Latest improvements RSS
The latest changes, fixes and new features on our platform.
January, 2022
Jan 20
maps
Added map of the Pacific Region, updated map of Asia, EU NUTS1, Ontario Electoral Districts, Canada, Districts for Belarus and Statistical Sectors for Castilla y León, Spain.
Jan 19
bar charts
It is now possible to set a custom number format for axis labels, independently of the number format set for value labels.
Jan 17
column charts
It is now possible to set a number format for value labels, independently of the number format set for the axis labels.
Jan 14
maps
Added Polling Stations for Denmark, Districts for Chelyabinsk, Russia, Municipalities for Albania, Croatia and Serbia and updated Municipalities for Netherlands and Switzerland.
Jan 10
bar charts
Added option to hide individual legend items in simple bar charts.
December, 2021
Dec 21
river
✨ The Datawrapper River received a makeover with some design updates and better performance!
Dec 15
chart editor
🎉 You can now connect your visualizations to private Google Sheets, by sharing them with our data@datawrapper.de Google account. Read more about this in our Academy.
Dec 10
maps
Added updated Municipalities for Latvia, updated Legislative Districts for Colorado and Hospital Referral Regions, USA.
Dec 3
maps
Added 2023 Constituencies, Postal Sub-Districts and LSOA per region for UK, hexagonal cartogram for Europe, Constituencies for Singapore and Electoral Precincts for major cities, USA.
Dec 2
publish & embed
It is now easier to to copy the link to your visualization. We automatically select the URL when you click on it and there is a new button for opening the link in the browser.
November, 2021
Nov 26
maps
Added Sub-Counties for Kenya and Electoral Districts for Kyrgyzstan.
Nov 23
choropleth maps, symbol maps
Fixed a bug in custom map uploads whereby it was not possible to upload GeoJSON files with null geometries.
Nov 18
teams
Small change related to pending team invites: If you have been invited to join a team, we will only list the team on your dashboard and in the user menu after you accepted the invite.
Nov 17
maps
Added Greater Capital Cities Statistical Areas, Local Government Areas, State Electoral Divisions, Commonwealth Electoral Division, Post Areas and Suburbs for Australia.
Nov 13
archive
We launched a new version of our visualization archive (formerly known as "My Charts" / "Team Charts"). It features a major design overhaul as well as a few minor improvements: The search is faster, the sort direction can be changed, and we made it easier to select all visualizations in a folder.
Do you have questions? Let's talk!
Contact us here so we can help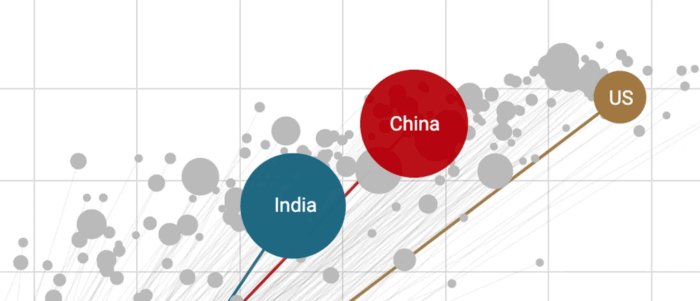 Contact Sales